Custom Tailored Suits from LIILOODESIGNS™
Planning the perfect celebration can be a daunting task and the devil is without a doubt in the details. Our custom tailored suits ensure you look your very best on every special occasion.
Our design process includes preparation of design sketches based on client input, fabric selection, design finalization, first fitting, second fitting, and final fabrication.
We currently offer custom tailored suits in Singapore.
Prices vary depending on level of design detail, fabric selection, and completion time.
Contact us at liiloo@liiloodesigns.com or fill in our contact form, if you're interested in a custom tailored suit from LIILOODESIGNS™.
MARK'S 3 PIECE GROOM SUIT
Contact us for more information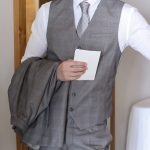 Great experience all around. Emily was very helpful in choosing a very nice material to match the overall wedding theme (keeping the wifey happy) while at the same time allowing me to use the suit for important business meetings and special future occasions. Great fit as well!
Saigon Children's Charity
We donate 10% of every sales to Saigon Children's Charity CIO's 2nd core program: School Building and and improved learning environment in rural remote areas of Vietnam.