Custom Tailored Suits from LIILOODESIGNS™
Planning the perfect celebration can be a daunting task and the devil is without a doubt in the details. Our custom tailored suits ensure you look your very best on every special occasion.
Our design process includes preparation of design sketches based on client input, fabric selection, design finalization, first fitting, second fitting, and final fabrication.
We currently offer custom tailored suits in Singapore.
Our prices vary depending on level of design detail, fabric selection, and completion time.
This is why we offer a free-of-charge consultation at our new studio after which we will have the information we need to present you with a quotation.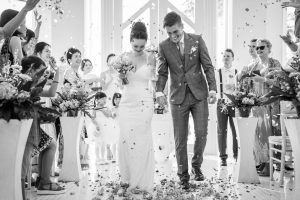 Contact us on liiloo@liiloodesigns.com or fill in our contact form, if you're interested in a custom tailored suit from LIILOODESIGNS™.
Victor's 20th wedding anniversary suit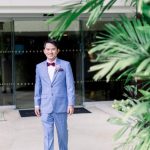 Emily made my husband's suit and my grown for our 20th wedding anniversary celebration in Jan 2020. It's my first time engaging her and I must say that we are very happy and satisfied with our clothing. She is very professional, attentive and has good workmanship. Mostly importantly she delivers on time with very reasonable charges. We will definite engaged her service again. Thank you Emily!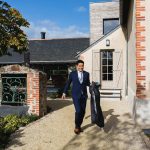 Thanks again for your time, effort, kindness and needless to say your talent and professionalism! We didn't know each other and were a bit lost regarding our wedding outfits at the beginning, but you welcomed us in your world with open arms, guided us, listened to us and reassured us each time we had a doubt. The whole process from inception to measurement, to fittings, to final touch-ups was absolutely flawless in such a short time period!!
And the result… fantastic as you can see in the pictures! You did an amazing job on Celine's gowns: the uniqueness of the design, the level of details on the lace, the quality of the fabric you selected are really world-class. And at the end of the day, they both fitted like a glove! Everybody was amazed and gave the same feedback: "stunning"!
Alex suit was brilliantly made with a great fabric selection, and you paid attention to the very single detail too. And best of all, it perfectly fitted him after just 2 rounds of fitting!
We really wish you great success in the future as you deserve it. Keep doing such great work!
MARK'S 3 PIECE GROOM SUIT
Great experience all around. Emily was very helpful in choosing a very nice material to match the overall wedding theme (keeping the wifey happy) while at the same time allowing me to use the suit for important business meetings and special future occasions. Great fit as well!
Contact us for more information
No Fields Found.
Saigon Children's Charity
We donate 10% of every sales to Saigon Children's Charity CIO's 2nd core program: School Building and and improved learning environment in rural remote areas of Vietnam.