Custom Wedding Dresses from LIILOODESIGNS™
Selecting the perfect wedding dress for your big day can be a daunting task. We make it easier for you by designing custom & exclusive wedding dresses, which fulfill all your wishes and expectations. Our design process includes preparation of design sketches based on client input, fabric selection, design finalization, first fitting, second fitting, and final fabrication. We currently only offer custom wedding dresses in Singapore.
Prices vary depending on level of design detail, fabric selection, and completion time. See examples of our work below including testimonials from our gorgeous clients.
  We can't wait to hear about the wedding dress of your dreams and at the same time introduce you to custom wedding dresses from LIILOODESIGNS™.
Contact us at liiloo@liiloodesigns.com or fill in our contact form to schedule a complimentary meeting.
Contact us for more information
Contact us for more information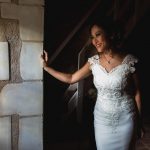 Thanks again for your time, effort, kindness and needless to say your talent and professionalism! We didn't know each other and were a bit lost regarding our wedding outfits at the beginning, but you welcomed us in your world with open arms, guided us, listened to us and reassured us each time we had a doubt. The whole process from inception to measurement, to fittings, to final touch-ups was absolutely flawless in such a short time period!!
And the result… fantastic as you can see in the pictures! You did an amazing job on Celine's gowns: the uniqueness of the design, the level of details on the lace, the quality of the fabric you selected are really world-class. And at the end of the day, they both fitted like a glove! Everybody was amazed and gave the same feedback: "stunning"!
Alex suit was brilliantly made with a great fabric selection, and you paid attention to the very single detail too. And best of all, it perfectly fitted him after just 2 rounds of fitting!
We really wish you great success in the future as you deserve it. Keep doing such great work!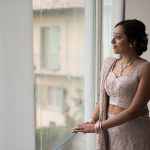 If you are looking for a custom made wedding dress for your special day you should definitely approach LiilloDesigns. Picking the perfect dress can be a painstaking process and so to avoid it all get one made. Throughout the entire process from choosing the material, the design and the style I felt very comfortable. Rest assured when it comes to the fitting there's no doubt that the attention detail for them is key. My dress was inspired by an Indian bridal outfit and even knowing how difficult the skirt was to make they took on the challenge.
Going for the last fitting was very daunting but words can't express the feeling of when you put on the final outfit (teary moments indeed)
Thank you so much for helping make my big day as special as it was.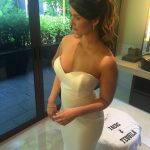 After shopping for for a few months and finding what I thought was "the dress", we ended up changing our plans from a 120 person wedding overseas to a ceremony at Capella. Just the two of us and our two best friends as witnesses. "The dress" was now more money than the wedding. It didn't make sense to spend that kind of money on a dress you wear for 4 hours. My better half knew of LiilooDesigns through a colleague at work whose wife had her dress custom made. I gave Emily a call. She was extremely helpful and patient. She listened to exactly what I wanted/imagined and was honest about what she could and could not accomplish in the given time frame…I think I called her 6 weeks before the wedding, maybe. I showed her pictures of my favourite parts from many different dresses…she hit the nail on the head the first time! After I saw the initial drawings, I had the utmost confidence that she would deliver exactly what I was asking for. And talk about her ability to sew…the dress fit like a glove on the first fitting. I didn't cry when I tried on dresses in the shops but I did cry at the final fitting. Not to mention my husband was very happy with the price difference 😉
Saigon Children's Charity
We donate 10% of every sales to Saigon Children's Charity CIO's 2nd core program: School Building and and improved learning environment in rural remote areas of Vietnam.