LiilooDesigns supports Saigon Children's Charity CIO – here's a write-up of their excellent work

Saigon Children's Charity CIO (saigonchildren) was founded in 1992 to help disadvantaged children get an education and a fairer start in life. Saigonchildren works exclusively across the whole of Vietnam to overcome barriers to education for children, including poverty, geography, knowledge and disability. We do that through our four main programs, School Building and Learning Environment, Child Development Scholarship, Getting Ready for Work, and Special Needs Education. Our philosophy is that all children have the right to fulfill their potential and that focusing on education enables even the most disadvantaged children to create a better future for themselves. We measure our results in the numbers of children going to school, progressing through school, and going on to university and securing decent jobs.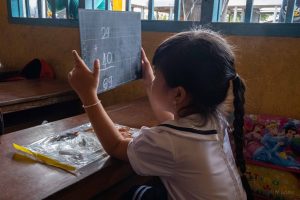 Our School Building and Learning Environment programme works towards two missions: replacing old schools in remote areas that are unsafe or does not meet current standards of teaching and learning; and building satellite schools to reduce the distance some children have to travel to attend a class. In addition to building safe, secure and beautiful schools, we provide hygienic toilet and wash facilities, libraries, playgrounds and specialist classrooms. We use these schools and our strong community network to strengthen awareness and understanding of a range of vital issues including sustainability, environmental protection, health and inclusion. In January 2020, we reached the milestone of building 200 schools, benefiting 20,000 students every school year onwards.
Saigonchildren also provides financial aids to disadvantaged children through our Child Development Scholarship programme. Our scholarship package helps with tuition fees, uniform fees, urgent support, and other school-related expenses. We do not just provide scholarships to students with good academic results, our scholarship programme extends to all students who meet saigonchildren's own poverty standards and who wish to continue going to school. We believe that every child deserves a chance at education, no matter their backgrounds. At the time of speaking, there are almost 2,000 students from primary schools to universities who are receiving saigonchildren's scholarships.
In addition to helping with general education, saigonchildren also offers vocational training and work-related skills training. Our Thang Long school in Ho Chi Minh city provides free IT and English classes to disadvantaged children and young adults in the area. This school is also where our social workers work to identify and support those who have stopped general education but wish to learn new skills to secure better jobs. We support disadvantaged young adults between the ages of 17 and 25 with vocational training and job placement to learn the knowledge and skills required to secure a job aligned with their interests, capabilities and ambition.
At saigonchildren we realize that barriers to education for Vietnamese children are not just geography, poverty, or knowledge, but sometimes it can be disability too, for the lack of either financial support, expertise, or inclusiveness of the current school system. Our fourth pillar works exclusively on special needs education, with a recent focus on children with autism spectrum disorder. We provide free trainings for parents and teachers on autism education, and more importantly, free early intervention classes for children diagnosed with autism spectrum disorder whose family cannot afford private sessions elsewhere.
In late 2018 we received The Certificate of Merit from the Prime Minister of Vietnam in recognition of our work improving access to education and contributing to Vietnam's economic development. As staff at saigonchildren, we are motivated everyday because we can see firsthand the impacts of what we do on the children we are helping, many of them have become respected professionals in their fields, or at least secured much more stable jobs than what they could have achieved without education. That said, there are always more that could be done to improve access to education for Vietnamese disadvantaged kids, and we are counting on our supporters to help us giving these children the fairer start in life that they deserve.