Custom wedding dress designed and made in Singapore for a very special customer
Like any number of traditions, the white wedding dress comes to us straight from the Victorian era. In fact, from Queen Victoria herself who was married to Prince Albert of Saxe-Coburge and Gotha on February 10th 175 years ago. Yet when she chose white silk-satin for her wedding, the choice was almost as iconoclastic as it would have been for Catherine Middleton to walk down the aisle in scarlet.
The wedding dress is always a dream for women on the biggest day of their life. Wedding memories last a life time and the wedding dress plays a very important part. Style, cut, texture, drape, trend, and season are all important factors in determining the best fabric and design for a wedding gown.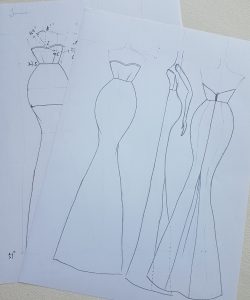 Our beautiful customer Jeanine requested her dress to be elegant, clean cut, and at the same time incorporate a little sexiness. And as you all know by now, I absolutely love open or low cut back dresses that compliment a woman's figure. It therefore comes as no surprise that my main idea for her wedding dress had to include my favorite low cut back design element. Adding to this, Jeanine has a very beautiful body figure so I decided to use a high clean cutting and include a mermaid tail design, to really showcase her figure.
We chose pearl off white for the dress color, and for fabric a high quality silk jersey type material. The choice of material allows the mermaid tail cut to drape perfectly on the floor and enhances the cutting to showcase Jeanine's figure. The front of the dress was designed as off shoulder with a love shaped cut to further accentuate Jeanine's shoulder line.
The whole process from initial design sketches, to fabric inspiration, fitting of the first crude dress to subsequent fitting rounds and final detailing took about 2 months.
To the lovely couple, I wish you a lifetime of happiness together and may all your dreams come true. I'm honored to have played a small role in making your wedding a very special occasion. And many thanks for sending the thank you card after your wedding. It means the world to us.