Fulfilling a dear friend's wedding dress wishes was a perfect first custom design job for LiilooDesigns
This was my first time designing a traditional wedding dress and I couldn't have done it without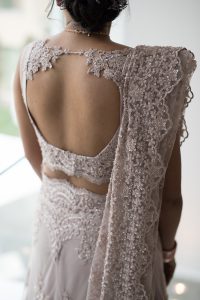 the support and trust from my friend. All my custom designs follows the same process. We talk about ideas, I make sketches along the way, and together we finalized the design she liked.
Once the design is settled, fabric shopping is the next big thing on the list. You can have great designs on paper but without the right fabric the end result will never be good. We spent a full day going through the fabric shops on Arab street. Although some people find this part of the process – choosing the right fabric from millions of different designs and textures – very tough and challenging, I really like it. This is were my designs come to life. It was fun explaining to my friend what kind of fabric and color will bring out various aspects of designs – both for better and worse. Besides choosing the right material we always have to make sure to choose a color that matches the skin tone. Color is very important for the human skin and choosing the right one can enhance your total look.
After visiting more than 30 shops we finally found the perfect material for the wedding dress. A light lavender purple covered with beautiful sequins and embroidery.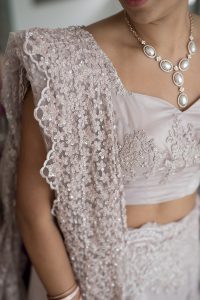 In total, the wedding dress took me 3 months to complete, which was a bit longer than I expected. Looking back on the process, more time was spent on the painstaking process of removing and reattaching sequins for every cut and seam. In the end it was worth all the effort because the dress turned out beautiful and – most importantly – my friend looked gorgeous wearing it.
I was especially honored to also be invited to the wedding in Italy, La Morra. This was my first time visiting Italy and it definitely wont be the last. The wedding location was nestled between some of the World's greatest vineyards. And the views were to die for. Ancient towns, castles, hills, and snow-covered mountains. Truly a memorable event.