Custom wedding dress designed and made in Singapore for a very special customer
I think I'm pretty much the luckiest girl around. Not many get the opportunity to design and make their own wedding dress.
The wedding dress is always something most girls dream about and so did I!
I started looking around for my wedding fabric a few months before the actual wedding. I always thought I would go for something plain and simple. But it was totally love at first sight when saw this fabric complete with the hem pattern design and superb fine jewels detailing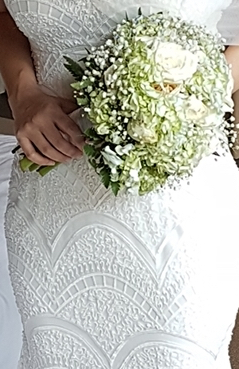 For the design concept, I preferred something not too dramatic and puffy, so I went for a mermaid silhouette with heart shape cutting. My first idea was heart shape off shoulder with deep V back design. However, due to an ever increasing bust line (4 months pregnant at wedding) I decided to add a strap to give additional support to the top part of my dress. Although the final design came out feeling a bit too detailed for my taste,  I'm still pretty happy about the total look.
I especially love the back details and the whole body shape.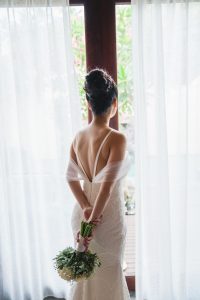 This dress took me about 3 weeks time to complete. It was very last minute due my pregnancy and not knowing how much weight I would be gaining. This way I made sure the fit was perfect for my big wedding day.
And now I can pass my dress on to my daughter as I always dreamed of 🙂
If I'm lucky, she will share my passion for fashion but honestly speaking, I'll be the happiest person in the world as long as she is happy.