Browsing through fabric markets in Ho Chi Minh was a unique experience
Last week I was in Ho Chi Minh looking for fabrics and tailors for my first collection. One of my goals was to visit as many fabric markets as possible to get an overview of the available fabrics and fabric prices in Ho Chi Minh and hopefully also get inspiration for new designs. Looking back on my experiences I think I achieved everything I set out to do and for those of you wanting to buy fabric in Saigon, here's my impressions of the 5 markets I managed to visit.
Hint when purchasing materials at markets in Saigon: always bargain! And try to collect all your different fabrics into a single order for increased bargaining leverage.
An Dong 1 Market in District 5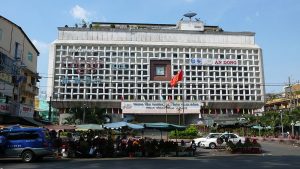 An Dong 1 Market has a decent selection of fabrics to choose from and I was able to buy fabrics ranging from plain black and whites to plated and embroidered materials as well. An Dong is by no means a whole sale market so expect higher prices and limited bulk availability of individual fabrics.
Tan Dinh Market in District 1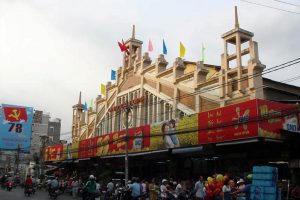 The selection of materials inside Tan Dinh market is similar to An Dong in availability and pricing. If claustrophobic never-ending walls of fabrics are not your thing there's a collection of 5-10 fabric stores just across the street, which offer a more comfortable shopping experience.
Whole sale fabric shops at 545, Tran Hung Dao Street, District 14 (Cho Soai Kinh Lam)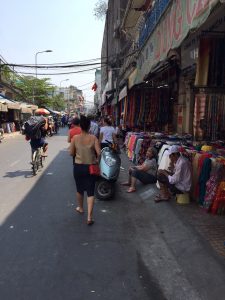 The whole sale fabric shops at Tran Hung Dao street spill out into several side streets surrounding the main market halls. Materials are definitely available in bulk here but I only managed to find a solitary fabric of interest for my collection. Many of the stores appear to sell the same (rather outdated) products. And I definitely got a "needle in a haystack' feeling from seeing the same materials again and again.
Binh Tay Market in District 2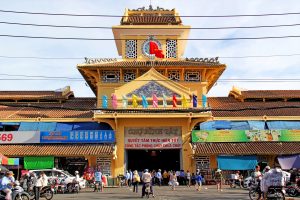 Compared to An Dong 1 and Tan Dinh, Binh Tay Market has a smaller selection of fabrics within the market halls. I did manage to find some rather nice textured blue and beige fabrics (made in Korea) here but again I couldn't shake that "needle in a haystack" feeling. Expect similar prices to An Dong 1 and Tan Dinh.
Whole sale fabric shops surrounding Tan Binh market, Tan Binh district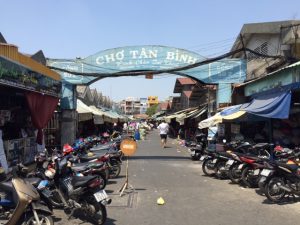 The multitude of shops surrounding Tan Binh Market offered by far the best priced – and unique – selection of fabrics I came across during my short stay in Saigon. In some cases prices were a third of what I experienced at An Dong, Tan Dinh, and Binh Tay and I was positively surprised by the selection of unique materials. For future visits to Vietnam this will by my first stop when I need fabrics for sampling and production.