LiilooDesigns is a Singapore based fashion startup
On August 7th 2017 we celebrated LiilooDesigns 1st year anniversary. All two of us. That's right, currently all of LiilooDesigns activities are handled by two persons who devote most of their spare time to this up and coming fashion business.
I, Emily, am in charge of all fabric & accessories sourcing, design of collections, visual identity (logos, banners, photo editing, packaging etc), production, and recently started modelling myself. My partner handles marketing (online & offline), partnering, website, budgeting, accounting, logistics, and photography.
Between us, we are fortunate to cover most of the skills & capabilities needed to run a fashion business. If this hadn't been the case, starting LiilooDesigns would have been a different story altogether involving partnering, external investors, and outsourcing.
Reflecting on the past year, we've come a long way and have gained some important insights into starting up and running a fashion business. We're therefore planning a series of blog posts where we summarize our experiences.
The first post is about designing and producing a fashion collection. We hope you like it.
Fabrics are the heart & soul of any fashion collection and fabric quality determines the usability and look & feel of the final designs. Our creative process therefore always starts with purchasing fabric samples. Initial design sketches are made based on fabric color, patterns, texture, and the way the fabric flows during movement. When we order fabric samples online or purchase via local suppliers, we always make sure that there's enough fabric on stock for the subsequent production. A lot of time, energy, and money is invested into making the initial design prototypes – resources that are potentially wasted if a new fabric is needed due to supply shortages.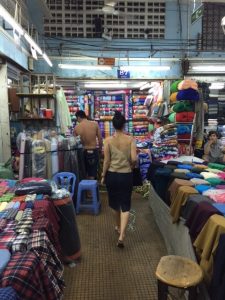 The initial design sketches are where a fashion designers creative skills come into play and its a not a process that can be rushed. When we design new collections, we always have a concept or overall story in mind to tie together individual designs. For our first collection, we made 3 mini-collections, each with their own individual visual identity. Our new collection is all about celebrating the black dress and jumpsuit.
Typically, we will prepare up to 50 different initial design sketches for a final collection of 8 designs.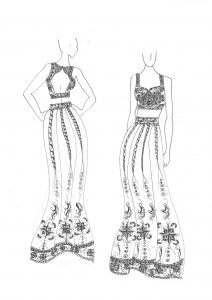 Sampling and redesigning is one of the most important phases when making a new fashion collection. This is where your ideas are materialized from paper to actual wearable designs. Often, ideas work better on paper than in real life. Certain design elements may not come out as you intended due to the physical nature of the fabric or fabrication limitations. During the process of redesigning designs that do not work from the beginning, you will also have to consider how design elements may work or not work with different body types. It is perfectly normal to go through 2 or 3 rounds of redesigning before every aspect of a new design matches your expectations.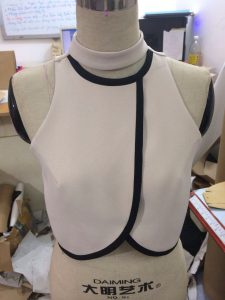 During your sampling and redesign work you may have selected several different fabric types and colors. Now is the time to choose the fabrics that work best with your designs and the overall theme of the collection. This is an important decision as colors and fabric types may have a great influence on how your customers react to the final collection. It definitely pays off to ask friends and your social media followers for feedback before you make your final selection. After all, purchasing fabric for a full collection represents a major investment so you want to get it right. As an example, we faced a situation while producing our first collection, where the final production had errors which needed correcting. The original jumpsuit was all white and during the correction work we decided to change the upper part to a black material. Subsequently we received feedback from several customers that they loved the all white design and no longer wanted to purchase after we changed to black & white. Important lesson learned.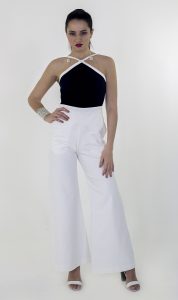 Production and quality control
Your sample collection is now ready, but where should you produce your collection? This is a major decision where several pros & cons should be considered. For our first collection, we decided to produce in Vietnam where workmanship is good and costs are lower than Singapore. However, being based in Singapore it was difficult to keep track of production quality and we ended up having to do alterations on final production pieces. With this in mind, we have chosen to engage tailors in Singapore for our second collection. Despite being more costly, local production allows us to constantly keep track of the production process and ensure mistakes are immediate corrected. What's right for you depends very much on previous production experience and the size (number of pieces) and intended price point of your collection.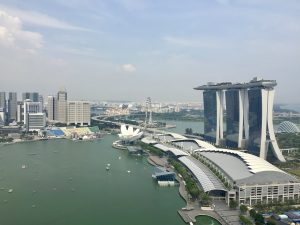 Great! Your collection is ready. Now what?
Once your collection has been produced, focus will automatically change to marketing & sales. Next steps include photo-shoots, preparing marketing material, promoting on social media and other online and offline marketing channels and preparing packaging that matches the overall visual identity of your brand. All our experiences with these topics will be covered in future blog posts here on LiilooDesigns.